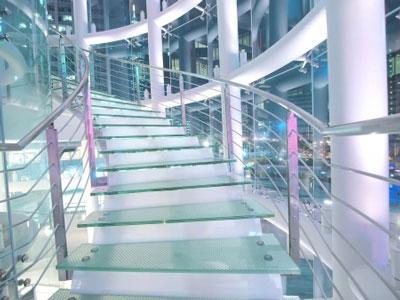 Glass Flooring Systems offers many "just glass" products for your specialty glass needs. Glass Flooring Systems can supply you with just glass for all of your walkable glass needs .For Example: walkable skylights, catwalks, bridges, terraces, stair landings or stair treads.
Here is a list of our glass fabrication and process capabilities.
Structural Glass Flooring Slabs – Available for exterior or interior applications with a variety of make-ups to meet your energy, security, privacy and decorative needs.

Structural Glass Flooring Slabs can feature

Integrated insulated glass units
Back painting
A digital printed layer
Colored laminations
Decorative meshes

Textured walkable surfaces

Standard float
Low iron
Numerous organic or pattern textures available.

Lamination
Tempering up to ¾" thick
Heat Strengthened up to ½" thick
Heat soaking
Drilling and cut-outs of tempered, annealed and laminated products
Polished edge work
We also offer many design and creative glass solutions. These include back painting, silk screening, decorative meshes and digital printing. Our digital printing can be done with conventional or ceramic inks de-pending on your application and requirements. These options can add an extra level of customization and individuality to your projects, helping create an exciting and inspiring space.