The top layer or walking surface of your skylights or glass flooring has two main criteria. Primarily, as a design feature, it should look great and be pleasing to its owner. It should be a reflection of the room it compliments. Secondly, it must meet the safety requirements of the local building codes. It must provide a safe walkable surface, being slip resistant as well as strong and durable. Here at Glass Flooring Systems we have established strategic alliances with many the best glass flooring suppliers in the world. This enables us to provide you with a variety of walkable glass options. ALL OF OUR GLASS MEETS the majority of building codes throughout the country, including loads and thermal requirements and missile impact ratings.

CriSamar® STEP · Slip-resistant floor glass
The elegance of glass with the highest slip resistance safety.
The new non-slip glass CriSamar® STEP for floors and pavements achieves to combine elegance and safety, allowing its use in all types of locations, such as indoor and outdoor.A wide range featuring 19 designs and acid-etched finishes, all with anti slip certification, presented in three series.
T-Series: Transparent design, excellent safety.
Style and versatility with excellent transparency and anti-slip certification. Originality in an ideal series for creating unique ethereal spaces.
S-Series: Satin design, high safety.
Contemporaneous character with great anti-slip safety. The S-Series features design and technical characteristics in discreet luminous satin glass.
X-Series: Extra anti-slip safety.
The elegance of satined glass with maximum non-slip safety, even for slippery wet exterior areas and with steeper inclines.
X-Series: Extra anti-slip safety.
LuxRaff offers maximum versatility from its range of sizes and thicknesses. It is highly resistant to scratches and stains.
Finishes available according to design: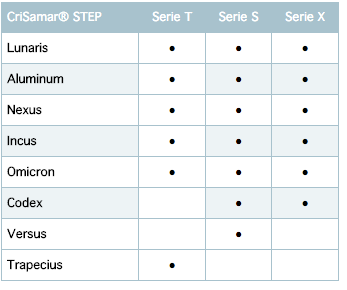 Advantages:
The widest range of non-slip glass on the market.
Specific designs for grip and drainage.
Anti-slip (UNE, DIN, ASTM, UL…) and scratch resistance (MOHS) certification.
Use can also improve non-slip properties.
Interior, exterior, dry and wet use.
Even quality, without irregularities.
Highly scratch and stain resistant.
Large-scale production capacity.
Easy transformation: cutting, bevelling, curving, drilling, tempering and laminating.
Internationally recognised brand, quality guaranteed.
SEVASA has obtained the Quality ISO 9001 and Environmental Safety ISO 14001 certificates. Strict routine controls give SEVASA the seal of an eco-friendly and sustainable company.
Applications:
Floors: Walkable Skylights, stair treads, stair landings, ramps, footbridges, bath areas, trafficable roofs, trafficable areas, etc.
Certification:
The three CriSamar® STEP series combine all anti-slip levels and surpass the maximum safety requirements for pedestrian traffic established by international standards and methods:
UNE ENV 12633 (Pendulum), Classes 1, 2 and 3 (Rd>45).
DIN 51130 (Ramp), R9to R13.
DIN 51097 (Barefoot), Classes A, B and C.
UL 410 – Slip Resistance of Floor Surface Materials
ASTM C 1028 – Static Coefficient of Friction
Characteristics:
Colors: extraclear, clear, bronze, grey, green, blue, and black.
Thickness: 4, 5, 6, 8, 10, 12 and laminated
Size: Standard 225 x 321 cm.
(Other sizes to consult)
Weight: 2.5kg/m2 per mm thickness.
Base: float glass standard UNE-EN 572-2, mirror standard UNEEN 1036 quality and resistance to corrosion.