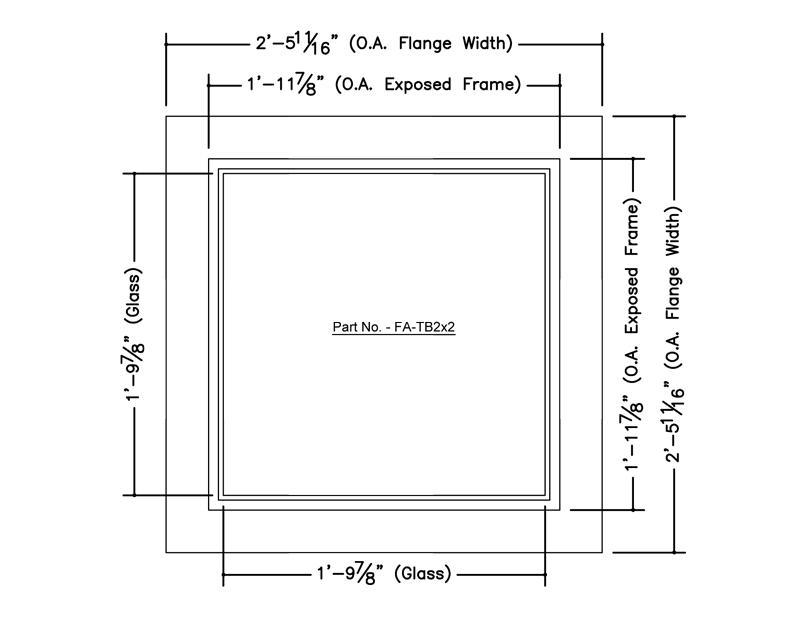 Our SkyFloorTM fully assembled, fully glazed, fully engineered units are truly a "set and go" product. Each SkyFloor fully assembled unit is secured to a pallet for shipping using the factory drilled mounting holes. The anchor holes used for shipping perform double duty. They allow for use of an eye bolt or other setup to rig the unit to the required installation location. Then once the unit is set in place they become the anchor points to secure the unit to its final location. No drilling or cutting required. Simply set in place, secure using factory drilled holes and have your roofer or waterproofing contractor complete the waterproofing. There is no easier way to provide a functional, safe, beautiful walkable skylight into your project.
Standard and industry first features
Thermally broken frames with insulated unit applications
6063-T6 Aluminum construction
Fully independent structural framing
Insulated Glass Units
Stepped design to transfer load of the structural floor glazing off the Insulated Glass Unit.
Integrated LED lighting. Optional
Designed in snap on setting blocks (80-90 shore as required for structural glass flooring)
Adjustable cap with backer rod stop. Allows for various glass thicknesses without any redesign.
SkyFloorTM standard units come in either white or black with custom colors available upon request.
* a pitch of the unit is recommended for exterior installations. Contact Glass Flooring Systems with your applications details for installation recommendations.
* Custom Sizes available upon request.
* Drawings and illustration not to scale.