There are many reasons to design a green roof into your project. Essentially green roofs supplement traditional vegetation without disrupting urban infrastructure, as well as utilize neglected spaces and make them useful. Green roofs last longer than conventional roofs, reduce energy costs with natural insulation and create peaceful retreats. Green roofs improve air quality and help reduce the urban heat island effect. Glass Flooring Systems SkyFloor® walk on skylights are an excellent complement to a green roof installation. Our SkyFloor® skylights provide an easy way to allow natural light into the space below while still maintaining the usability of the roof area. Our patent pending design provides the space required for your drainage layer, filter membranes and growing medium while blending seamlessly into the overall design. An ideal scenario for incorporating SkyFloor® walk on skylights into your green roof project would be to use them as the walkway throughout the green roof landscape. Using them in this manner provides multiple benefits to the overall function and design of the project. In addition, SkyFloor® walk on skylights are the only walk on skylights with third party performance testing data. SkyFloor® units meet or exceed the industry standards for UV and heat transfer testing. This is instrumental when completing your overall building survey for energy code compliance.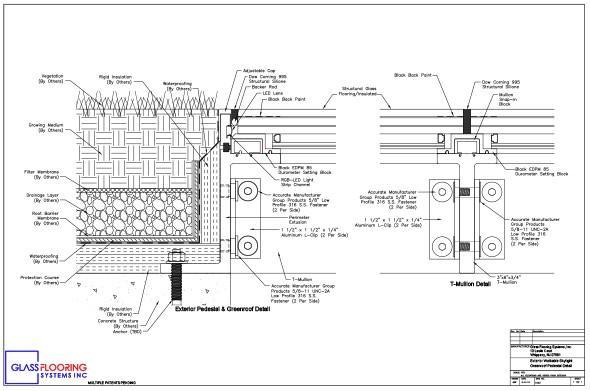 Energy code compliance testing
Thermally broken frames
Insulated glass units
Anti-Slip walk on surface
Maintain usable roof surface
6063-T6 aluminum construction
* 1/8" per foot pitch required on all installations.
* Custom Sizes available upon request.
* Drawings and illustration not to scale.
*Each job has different conditions that will impact final load bearing capabilities of the assembly. Please refer to our load chart on our resources page for accurate load assessments. Each job needs to be reviewed by our engineer for final load bearing evaluation.