Fully glazed, fully assembled, engineered SkyFloor® walkable sky-lights have been designed to integrate perfectly within a standard pedestal paver application. The outer dimensions of our pre fab units match the outer dimensions of a 23 7/8 x 23 7/8 paver grid pattern.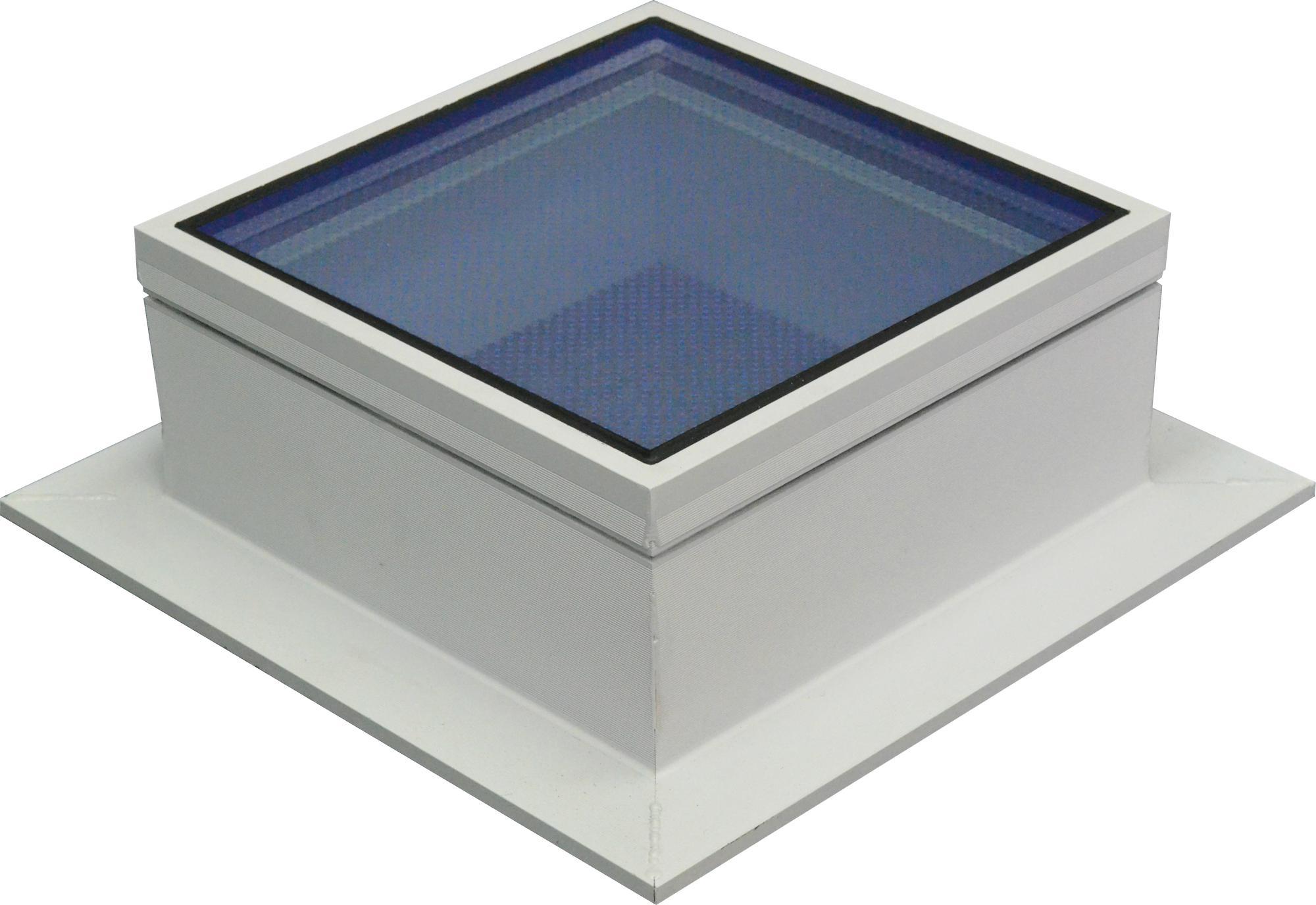 Maximizing living space is a common challenge for architects and owners. Combining both the ability to transform a previously unusable roof area into a beautiful and inspiring walkable surface at the same time allowing natural light into the room below is an excellent solution.Until now this has typically been an expensive and complicated proposition. Glass Flooring Systems industry leading SkyFloor® is an integrated package of services as well as affordable.

SkyFloor® fully assembled walkable skylights use our proprietary 6063-T6 aluminum extruded framing members. Using aluminum re-duces the weight of the completed assembly at the same time maintaining the strength and load bearing capabilities required. This weight savings also provides for a quicker and easier installation, which saves both time and money. Our proprietary designed framing system has a built in thermal break and snap on setting blocks that are rated at80-90 shore. The glass construction is three layers of 3/8 glass with either Eastman Saflex PVB or SentryGlas® with the interlayers insulated for the ultimate in thermal protection. The glazed assembly ispermanently bonded to the frame with Dow Corning's 995 structural sealant. Our standard units come pre engineered and approved to support a live load of 100lbs per sq. ft.*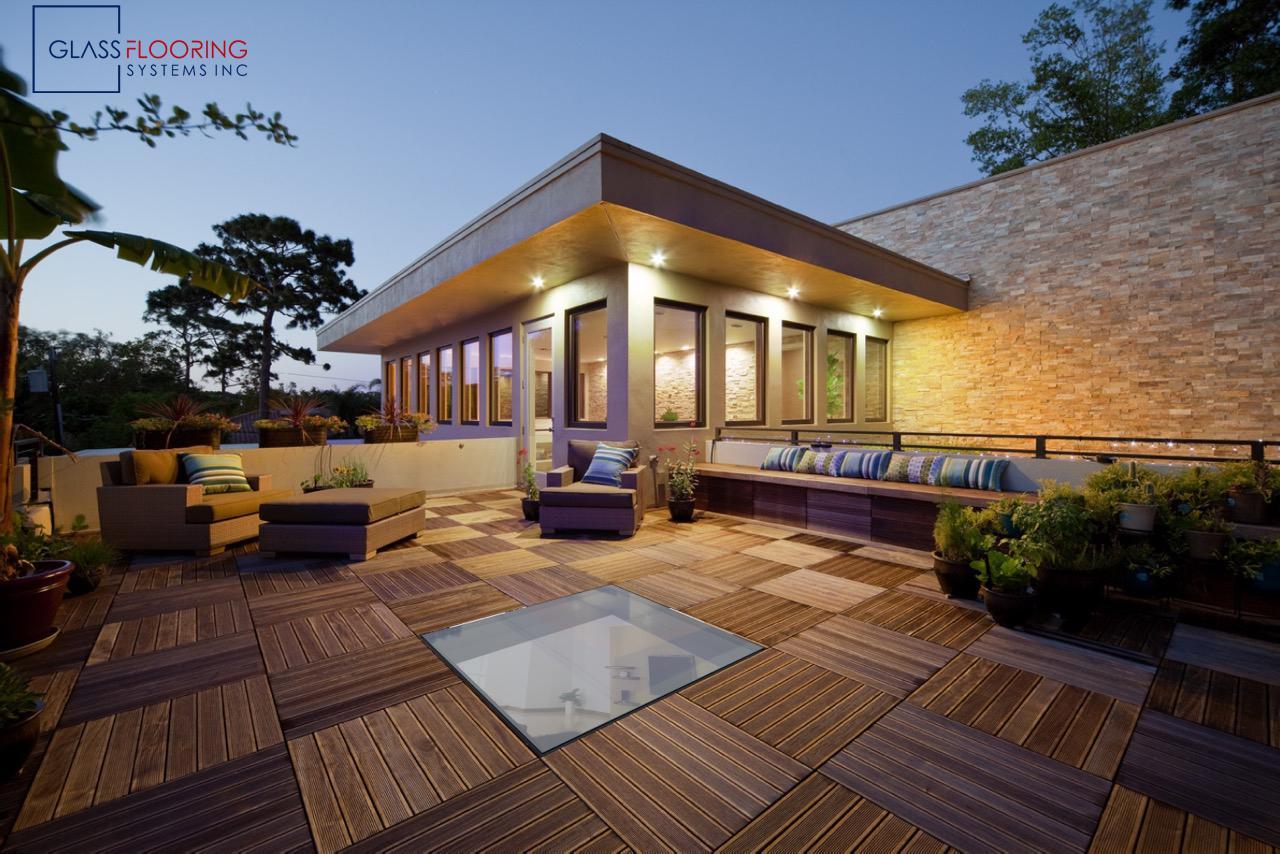 We offer four SkyFloor® fully glazed walkable skylights which integrate perfectly within a 23 7/8 x 23 7/8 pedestal paver application. Other sizes available, as well as custom sizes, to meet your requirements. Check out our standard sizes page for more information, sizes and configurations.
The industry leading design of Glass Flooring Systems' SkyFloor® fully glazed, fully assembled and fully engineered units yield a world of possibilities.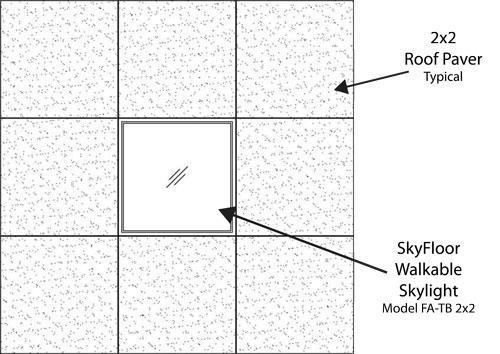 Single Light Configuration
Opening size – 2′ 6 3/4″ x 2′ 6 3/4″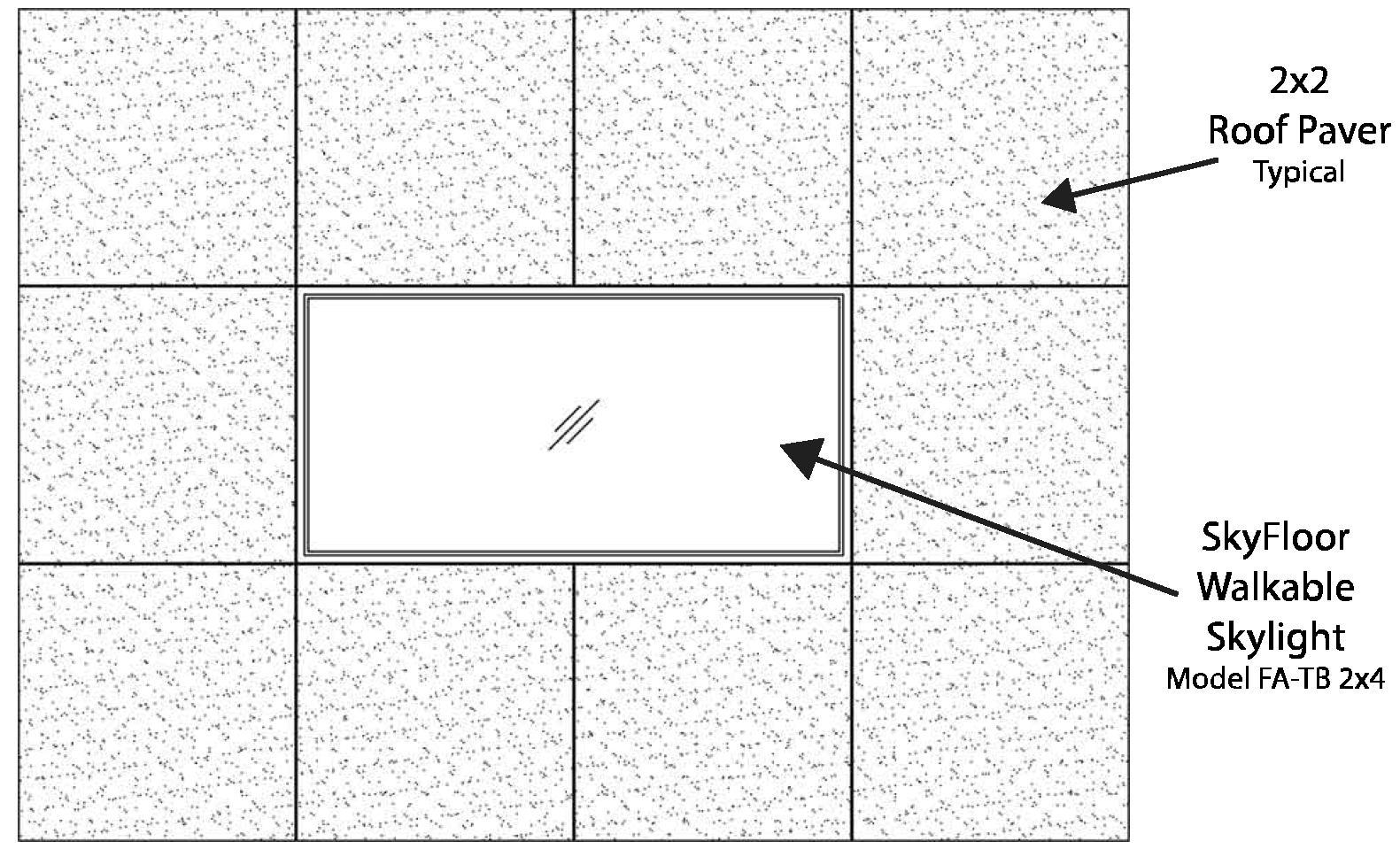 Single Light Configuration
Opening size – 3′ 6 3/4″ x 2′ 6 3/4″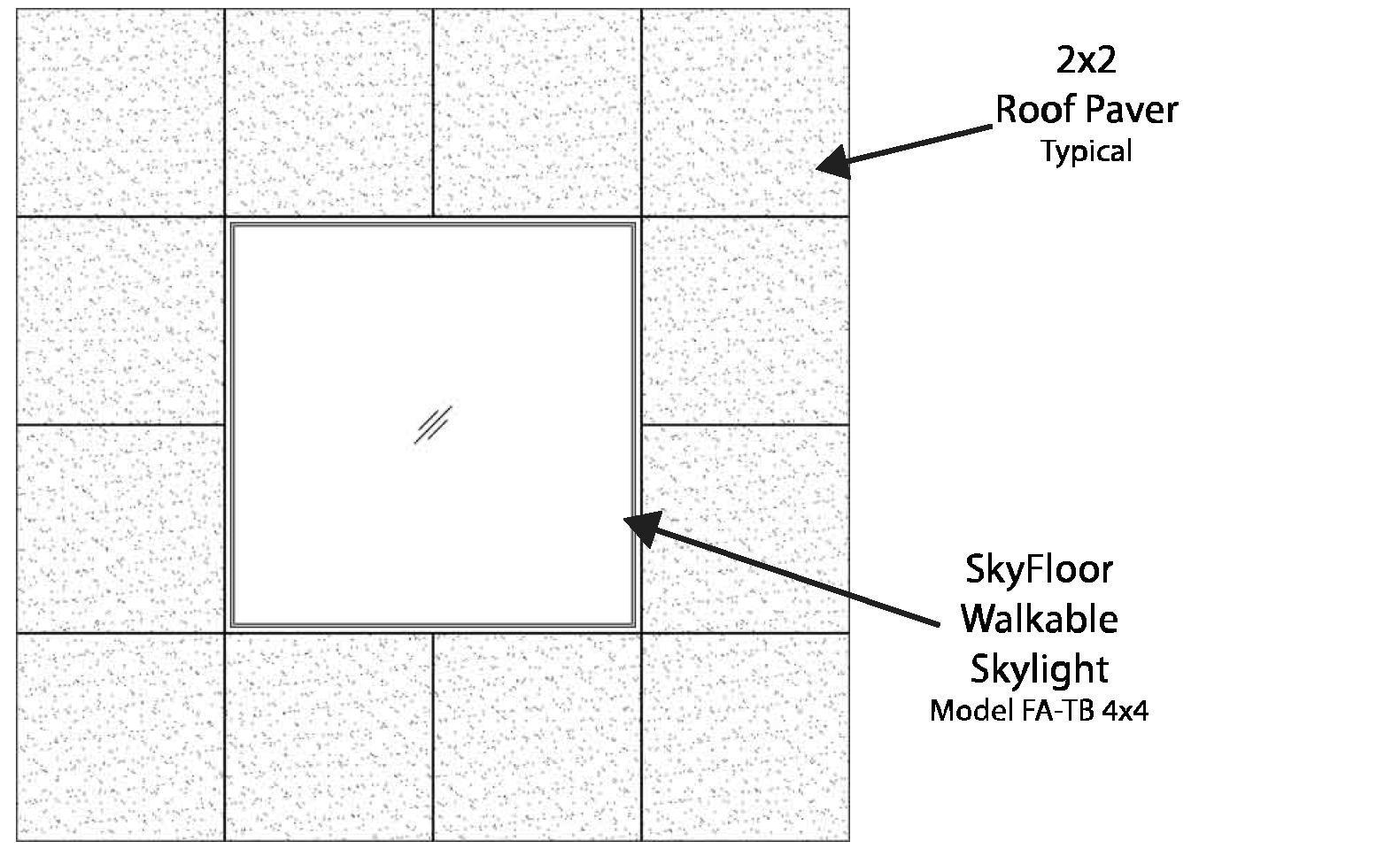 Single Light Configuration
Opening size – 4′ 0 3/4″ x 2′ 6 3/4″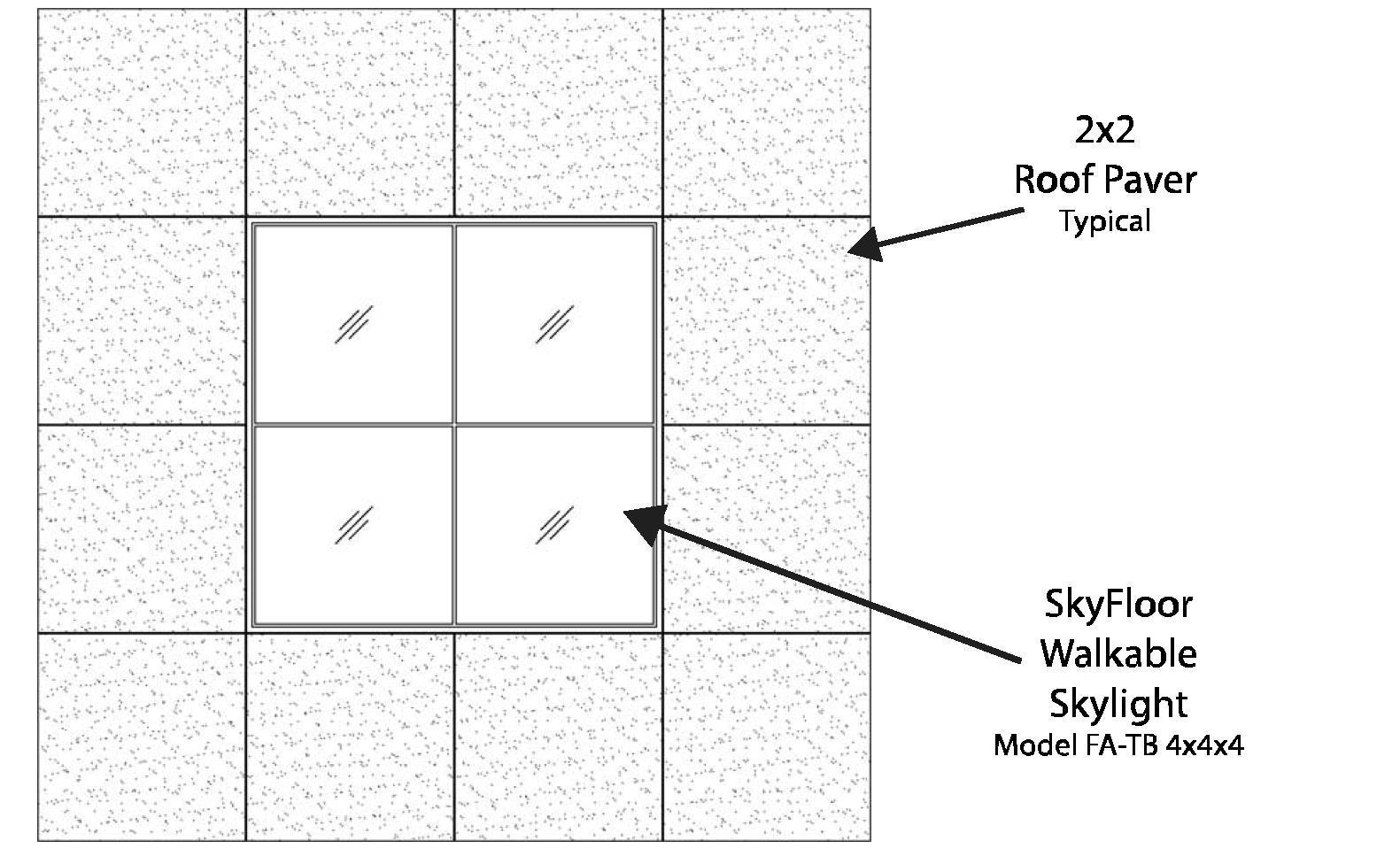 Four Light Configuration
Opening size – 5′ 1 1/8″ x 2′ 6 3/4″

* 1/8" per foot pitch required on all installations.
* Custom Sizes available upon request.
* Drawings and illustration not to scale.
*Each job has different conditions that will impact final load bearing capabilities of the assembly. Please refer to our load chart on our resources page for accurate load assessments. Each job needs to be reviewed by our engineer for final load bearing evaluation.